Prestige Linen Thermal Binding Covers
Adding this item to your cart will qualify your order for US domestic


This product is currently out of stock. Please check back later.
This product is currently out of stock. Please check back later.
Minimum Order of 300 Pieces
Prestige linen covers are made from a 80 lb. finished card stock. Stiff enough to firmly bind your sheets, these are good looking and will make a fine impression.
Thermal binding covers are pre-made, with glue already in the spine, folded, and with a spine helper score, ready to bind your pages into a good looking book.
Soft Cover Thermal Binders provide a polished and finished look to all bound documents. No punching, crimping or clean up! Simply place your loose pages into a soft cover thermal binder and place into the ProBind 1000 or Pro-Bind 2000. Depress the start button and seconds later your bind is complete.
Customize the binders with foil stamping, embossing, transparent fronts, 1 color to 4 color process offset printing, custom die cuts or pockets.
Binders are made for 8-1/2" x 11" sheet size.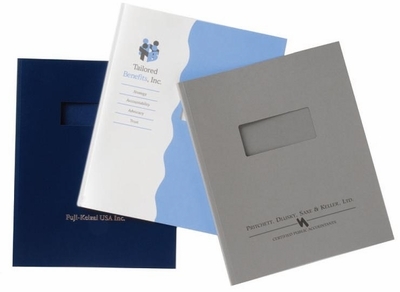 Thermal covers in colors other than white and thermal binding covers that are customized will have to be manufactured and therefore may take 1 - 3 weeks for production. If you need the thermal binding covers quicker, please call us at 800-952-2463.
Call us at 800-952-BIND for larger quantity discounts and questions about customizing options.