Tamerica 240EPB Electric Comb Punch and Manual Bind
Adding this item to your cart will qualify your order for US domestic


Adjustable punching from 1-24 holes
Fully disengageable hollow ground dies
All metal construction
Shop all Tamerica Binding Machines available at Finitura

Tamerica 240EPB Electric Comb Binding Machine TCC240EPB
Tamerica Electric Comb Punching & Manual Binding Machine 240EPB
The Tamerica 240 EPB can punch paper up to 14" in length which allows for wider applications. A small footprint and high output (punches 15,000-20,000 sheets/hr) make the Tamerica 240EPB ideal for high volume corporate and commercial comb binding in offices. This combo manual and electric binder offers speed and versatility with adjustable punching from 1-24 holes. Purchase the efficient Tamerica electric comb punch machine and supplies online from Finitura.
Tamerica 240 EPB Highlights
One year manufacturer warranty
Easy-to-use
Automatic foot pedal control for punching
4-position punching depth
Adjustable punching from 1-24 holes
Fully disengageable hollow ground dies
All metal construction
How to Bind with the Tamerica 240EPB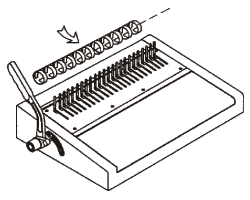 1. Place binding comb with open side up and let it fall between the fingers so the binding hooks engage with the rings.

2. Pull binder stop knob & set pin to position No. 16. Pull master arm forward and hold to the proper opening. Turn the binder stop knob back where it meets the master arm and it locks on the corresponding position.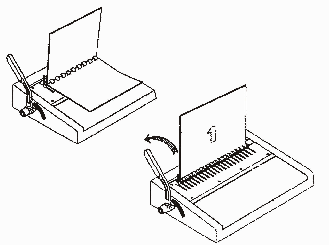 3. Hold punched sheet straight up, feed the binding comb through the punched holes. When all are through push the arm back and so hooks fully disengage and your bound book is released.
Tamerica 240EPB Specs

Machine Dimensions
Maximum Weight
Maximum Page Size
Maximum Binding Size

2" (425 sheets of standard paper)

Number of Rings
Punching Thickness

20 sheets of 20 lb. bond paper

USA Power Requirements