Roll laminators from Finitura let businesses, schools, & more professionally finish their print & marketing materials. Finitura carries roll laminators from 12" to 63" wide. Shop brands like FujiPla, GBC, & DryLam. Any non-oversize roll lamination machine order over $75 ships for free. Just look for the red FREE SHIPPING tag.
Call 262-650-9999 for pricing.
Roll Laminators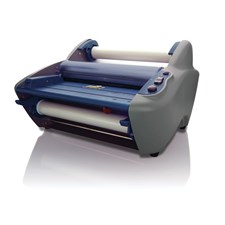 GBC Ultima 35 EZload Thermal Roll Laminator, 12" Max. Width, 1 Min Warm-Up
The GBC Ultima 35 EZLoad 12" thermal roll laminator is perfect for daycare centers, churches, and small offices. The desktop laminator delivers high-quality results every time.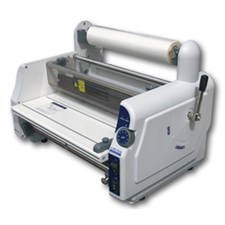 DryLam FujiPla LPE3510 - 13" Roll Laminator
The DryLam FujiPla LPE3510 heavy-duty laminator laminates documents up to 13" wide. Rapid warm-up and an easy to use interface make the LPE3510 a great choice for schools.
DryLam FujiPla SL27 - School-Lam 27" Roll Laminator
The DryLam FujiPla SL27 - School-Lam 27" Roll Laminator is specifically designed to eliminate the problems and confusion of operation. Fast warm-up time about 5 to 10 minutes ensures less waiting time.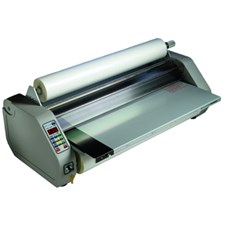 DryLam 27" Digital Roll Laminator
The DryLam 27" Professional Series Roll Laminator is an ideal machine for thermal lamination of a wide variety of prints, ranging from black and white prints to full color posters.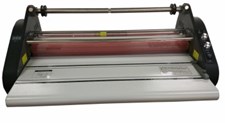 Phoenix 2700-DHP Production 27" Roll Laminator
Phoenix 2700-DHP Production 27" Roll Laminator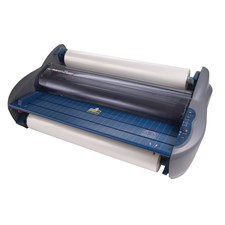 GBC HeatSeal Pinnacle 27 EZload Thermal Roll Laminator, NAP I/II, 27" Max. Width…
The GBC HeatSeal Pinnacle 27 rhermal roll laminator with EZload simplifies film loading & provides quick & easy laminating. Warms up in just 6-9 minutes to laminate items up to 27" wide with NAP I or II film up to 3 mil thick.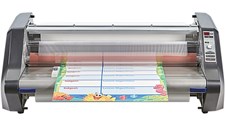 NEW GBC Ultima 65 Thermal Roll Laminator, 27" Max. Width, 10 Min Warm-up
NEW GBC Ultima 65 thermal roll laminator is compatible with both EZload film and standard film, this laminator uses AutoGrip shafts and an innovative pivoting feed table to make film loading easier than ever before.
GBC Catena 65 Thermal and Pressure Sensitive Roll Laminator, 27" Max. Width
Catena 65 tackles lamination jobs with ease & efficiency to keep your small print shop, office or institution running smoothly. This multi-functional laminator jobs easier than ever with user-friendly features like open design, pivoting table, AutoSpeed function, programmable presets & more.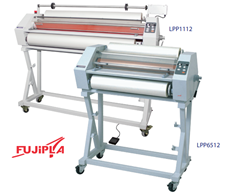 LPP11122 Heated Roll Laminators
The LPP1112 offers economical yet reliable introductory grade wide format laminating in 43" widths. Runs thermal films and PSA/Cold laminates (with optional release liner rewinder).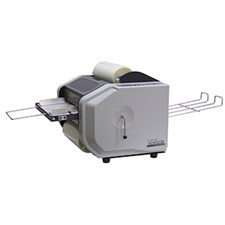 Fujipla ALM3230 Auto Laminator -Call for Special Pricing
Fujipla ALM3230 Auto Laminator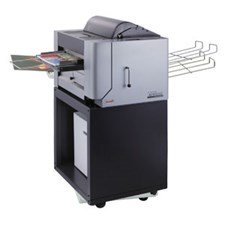 DryLam FujiPla ALM 3222 Production Laminator
The ALM3222 Fully Automatic Laminator offers heated rollers for crystal clear, scratch-free lamination. Micro adjustable side trimmers for precise flush cutting or the exact border encapsulation you desire. Now handles up to 13" wide sheets (12.6" of film coverage).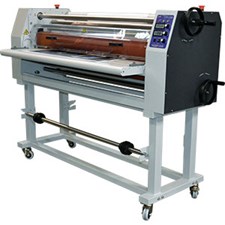 DryLam FujiPla LPV1600 Wide Format Roll Laminators
The LPV1600 offers affordable wide format mounting and laminating up to 63" width capacity. Uses thermal laminating films or pressure sensitive films 1.2 mil through 10 mil. Leasing options available!
Roll Laminators for Business
Roll laminators from Finitura make continuous lamination easy for businesses. The machines we provide have fast warm-up times adjustable widths, and more special features. Rolls range from 12" to 63" wide. Use these laminators to add a professional finish to your most important documents and materials.
Roll laminator brands from Finitura:
Phoenix
FujiPla
GBC
DryLam
Get great deals when you set up a bulk pricing account with Finitura. Get all your supplies through our website. If you ever need your lamination machine repaired, we'll take care of it. We repair all types of business laminators.