Coil Binding Supplies
Finitura has durable coil binding supplies for sale online. Choose from a variety of colors, lengths and widths. FREE SHIPPING is available for orders over $75.
Coil Binding Supplies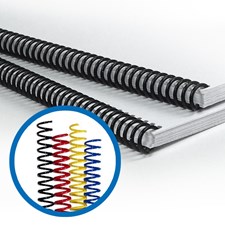 4:1 Coil Binding (Box of 100)
Finitura Plastic Coil binding is durable, flexible, and affordable. It is also available in a variety of colors and sizes to finish almost any job. It will not chip, crack, corrode, or distort over time, and will retain its shape even with repeated use. Since plastic coil is a continued spiraled, pa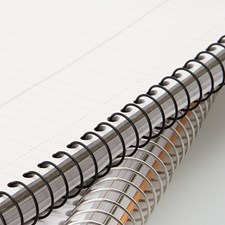 Finitura Metal Spiral Coil (100 per box)
Metal Spiral Coils bind in all coil binding machines
Buy Coil Binding Supplies Online
Our coil binding supplies are sold in boxes of 100. These coils are built to last – they won't chip or crack and will even maintain shape after being repeatedly used. Our coils are available in 12" and 36" lengths and can be cut to fit smaller books.
Choose from a variety of colors including:
Black
White
Clear
Silver
Burgundy
Forest Green
Gold
Mid Blue
Navy
Royal Blue
Ruby Red
Yellow
You can also select coil width from 6mm to 50mm.
Custom Finished Binding
Looking for someone to handle all binding and finishing for you? Finitura has you covered! We'll handle everything and provide you with complete finished presentation items including tabs, 3-ring binders, covers and pocket folders.