Spiral Coil Binding Supplies
Finitura has durable plastic coil and metal spiral coil binding supplies for sale online. Choose from a variety of colors, lengths and widths.
Spiral Coil Binding Supplies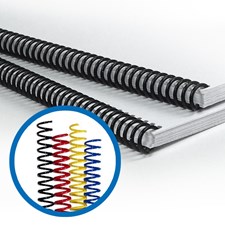 4:1 Plastic Coil Binding (Box of 100)
Finitura Plastic Coil binding is durable, flexible, and affordable. It is also available in a variety of colors and sizes to finish almost any job. It will not chip, crack, corrode, or distort over time, and will retain its shape even with repeated use. Since plastic coil is a continued spiraled, pa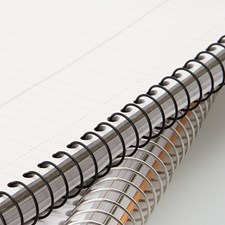 Finitura Metal Spiral Coil (100 per box)
Finitura Metal Spiral Coils bind in all coil binding machines
Buy Plastic & Metal Coil Binding Supplies Online
Spiral binding made easier
Finitura offers exclusive plastic and metal coil binding spines to accomplish your printing and binding project with ease. Our spines are made of durable material to keep pages organized and booklets in one piece. Our 4:1 coil binding supplies are sold in boxes of 100, in either plastic or metal, with custom colors for each material.
Plastic Coil Binding Spines
Our Plastic coils won't chip or crack in the binding process, and will maintain shape after repeated uses so you get the most return on your investment here. Plastic coils are ideal for any lie flat documents that are used for:
Recipe booklets
School reading material
Presentation handouts
Booklets for tradeshow events
And much more! Plastic coils allow the book to lie flat when reading or turn over with-ease.
Plastic spiral binding colors
Finitura offers a variety of plastic coil colors to best complement your booklets, including:
Black plastic coils
White plastic coils
Clear plastic coils
Silver plastic coils
Burgundy plastic coils
Forest green plastic coils
Gold plastic coils
Mid blue plastic coils
Navy plastic coils
Royal blue plastic coils
Ruby red plastic coils
Documents bound with color plastic coils make organization easier and add flare to any business event with required reading.
Plastic spiral binding sizes
Plastic coils, or spiral binding, sizes are meant to match the document you're binding. Finitura offers sizes ranging from 6mm to 50mm, for documents as small as 5 pages to upwards of 500. The plastic Coils coils are available in 12" and 36" lengths and can be cut to fit smaller books.
Whether you're binding small recipe books for distribution, or binding large manuals for mass distribution, we have the spiral size to best fit it. Contact a Finitura representative to go over your project needs to be paired with the best plastic coil binding spine. Shop Plastic Binding Coils
Metal Coil Binding Spines
For more industrial binding projects, we recommend our exclusive line of durable metal coils. These coils are ideal for mass production of bound materials such as:
Spiral notebooks
Commercial book binding
And much more
Our exclusive metal coils are durable to withstand force and use, especially compared to other, flimsier metal coil suppliers. Our metal spines are ideal for shipping and transportation, so if you'll be sending your booklets, notebooks, or other reading materials, we highly recommend this coil binding spine to get the job done while maintaining document integrity.
Metal coil binding colors
Finitura offers 3 colors:
Black metal coils
White metal coils
Aluminum coils for binding
These colors provide that sleek, professional look unmatched by plastic coils.
Metal coil sizes
Our metal coils are available in wide range of sizes, anywhere from 6mm (or ¼") to 50mm (or 2"). If you need a metal coil outside that size, we've got you covered. Contact us through our form or get in touch over the phone for information on our custom coil sizes. Shop Metal Binding Coils
Custom Finished Binding
Binding project looking more tedious now? Looking for someone to handle all the binding and finishing for you? Finitura has you covered. We'll handle everything (yes, you read that right) and provide you with the completed document. Our process includes:
Tabs
3-ring binders
Covers
Pocket folders
Coils
Finishing items (laminate your pages for extra protection!)
And so much more
Get a quote on our custom binding services so you don't have to worry about the process.