Rhin-O-Tuff Tornado Autopunch EX
DIMENSIONS
Height:

59.00 Inches
Width:

28.00 Inches
Length:

59.00 Inches
Weight:

770 Lb(s) 0 Oz
This item is oversize or LTL – not qualified for free shipping.

The Best Binding Machine – Ever
When printing booklets, businesses spend 63% of job time on finishing.
You can reduce finishing time up to 40% with Rhin-O-Tuff's new Tornado Autopunch EX – The World's First Automated Collating Punch System.
Why Choose the Tornado Autopunch EX?
Businesses who use the Rhin-O-Tuff Tornado Autopunch EX reduce finishing times and costs. Using the Tornado Autopunch EX means five costly, time-consuming, labor intense steps become one easy step. Using an automated punch system will improve efficiency and reduce production costs: guaranteed.
Tornado Autopunch EX Features
Handles media from 60gsm to 312gsm, including light porous/heavy coated print media and specialty binding media like plastics, vinyl, and textures.
Two interposer bins hold up to .59 (15mm) of media, auto-collating front/back covers, inserts and index tabs into the book prior to book stack prior to punching. No manual collation required.
High-capacity main bin holds up to 2,500 sheets, including mixed media.
Punches up to 10,800 sheets per hour, improving throughput
Compare Standard Binding to Tornado Autopunch EX
The Tornado Autopunch EX turns five steps into one with its state of the art Tornado technology.
Standard Binding
Step 1: Punch all the individual book blocks with a single oversized commercial punch.
Step 2: Punch the covers of the booklets using a different machine and a different worker.
Step 3: Punch the backs of the booklets using a different machine and another worker. These covers and backs could be made of poly, vinyl, and other substrates which are difficult for traditional machines.
Step 4: Separate you book blocks by hand. Depending on the size of your project this could be a long and arduous process.
Step 5: Add the fronts and backs to your booklets by hand, another long and tedious process.
Tornado Autopunch EX
Step 1: Load all materials into the Tornado Autopunch EX and press start.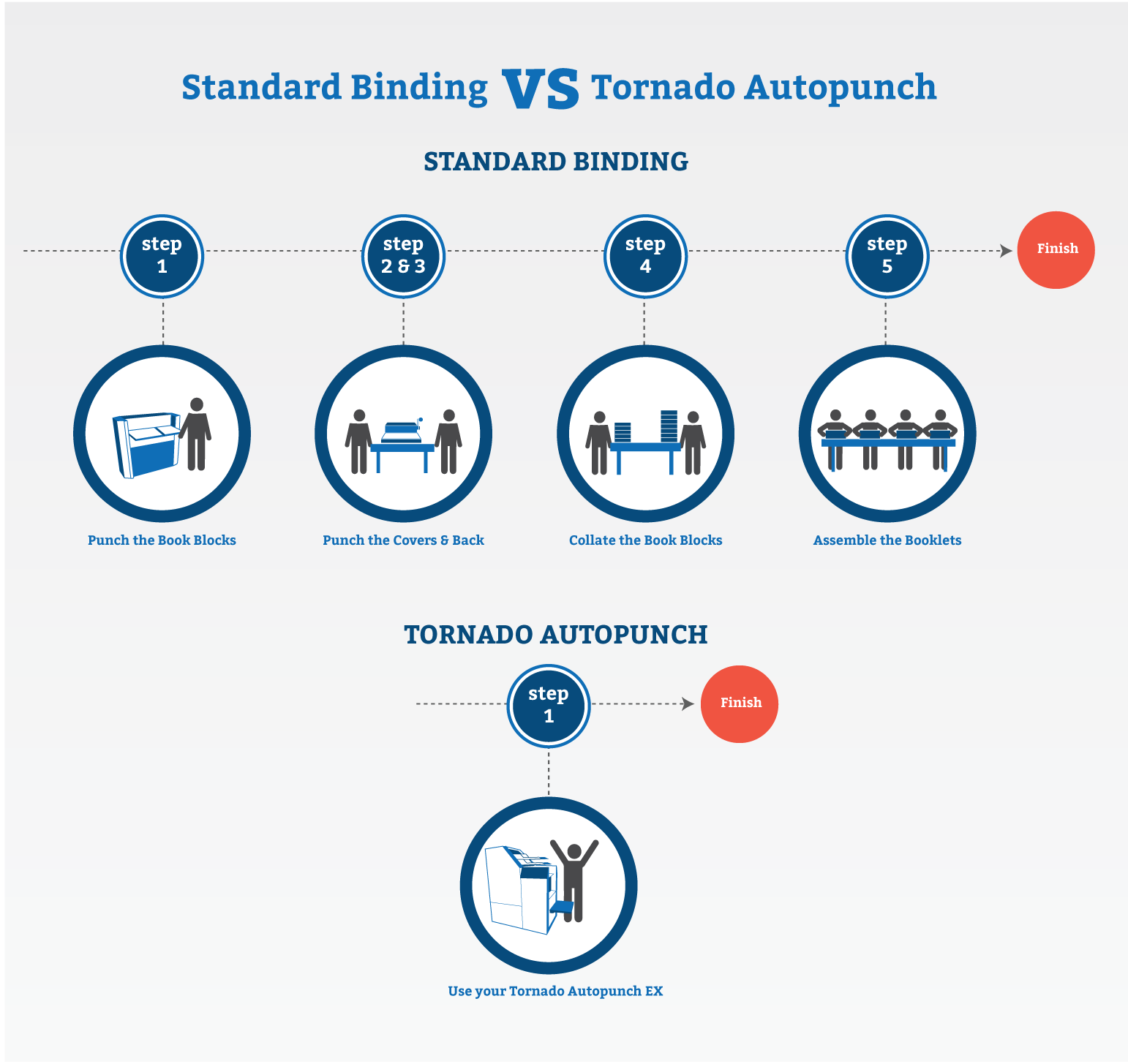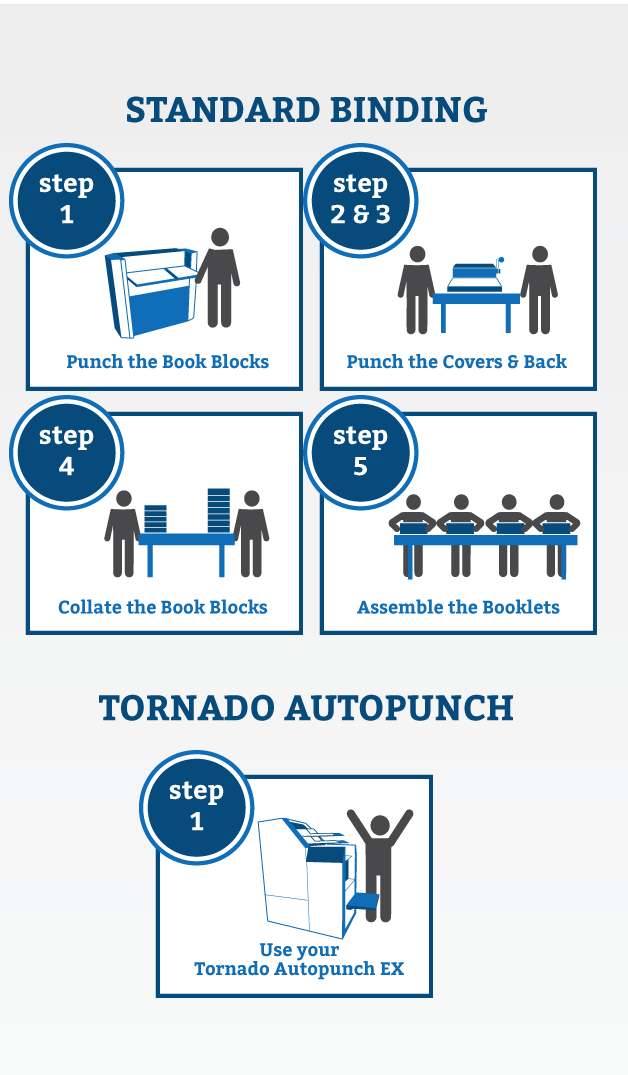 Automatic Binding Eliminates the Need for Manual Steps
The most time-consuming steps of the finishing process are the manual ones. Individually separating each booklet, punching small stacks of different substrates for the covers, assembling the books before they can even be bound… it's no small wonder why 63% of job time is spent on finishing.
The Tornado Autopunch EX eliminates the need for manual steps.
A single operator can stack 2,500 sheets into the main bin. The two automated interposer trays can handle a wide variety of substrates. Using Rhin-O-Tuff's patented interchangeable die system, the Tornado Autopunch EX punches one of nine different styles into the booklets. One operator can program the entire job using the touchscreen interface. The Tornado Autopunch EX produces offset stacked document sets ready for binding thanks to the world's first automated collating punch.
Ease of Operation
The Rhin-O-Tuff Tornado Autopunch EX uses a 7" touchscreen display with intuitive controls. A single operator can select the proper media, load new or existing jobs, and more. Using Rhin-O-Tuff's patented interchangeable die system operators can choose one of nine different punch styles. With the Tornado Autopunch EX a single employee can do the work of X in half the time.
Tornado Technology
Using BDT's patented Tornado technology the Rhin-O-Tuff Tornado uses air to separate pages and eliminate static electricity and cling. This allows for more efficient, accurate booklet making with fewer jams and errors. Rhin-O-Tuff has exclusive rights to BDT's new technology, making the Tornado Autopunch EX the most powerful auto-punch machine on the market. The BDT tornado system uses air to pull sheets up and move them for fast and efficient stacking.