Rhin-O-Tuff Binding Machines & Dies
Buy Rhin-O-Tuff Electric Punch Machines & Dies
Finitura brings you the best in Rhin-O-Tuff electric punch machines, dies, openers and coil inserters. No matter the volume of your production, you'll find the best deals on punch machines for comb, coil, three hole, VeloBind and wire binding. Rhin-O-Tuff electric punch machines are renowned for durability and increase the quality and speed of your production – guaranteed.
Rhin-O-Tuff Onyx Heavy Duty Punch – HD7000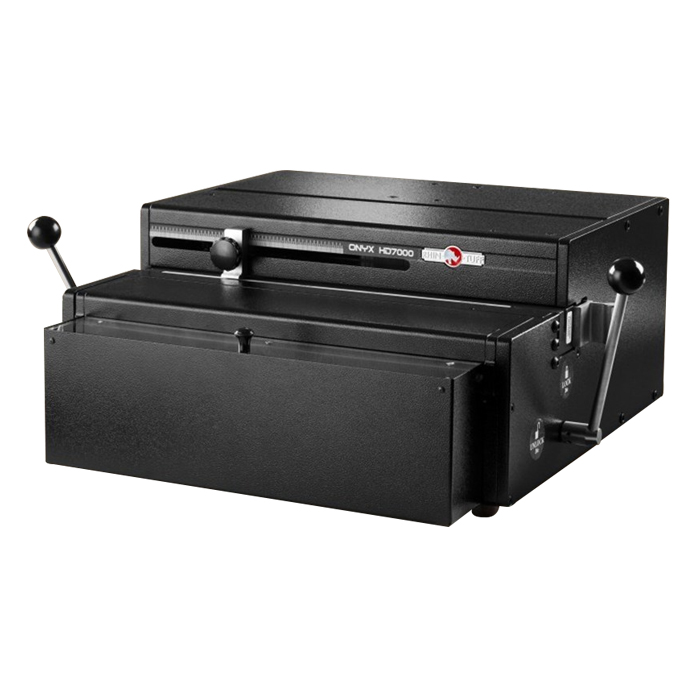 Use coil, comb, wire, VeloBind and other dies with the Rhin-O-Tuff HD7000 electric punch from Finitura. A heavy duty, reliable workhorse, the Rhin-O-Tuff HD7000 is the gold standard of commercial punching machines. The Rhin-O-Tuff is rated for up to 40 sheets of 20 lb. paper and features a quick-change die system for switching punch patterns in 30 seconds.
Tornado Autopunch EX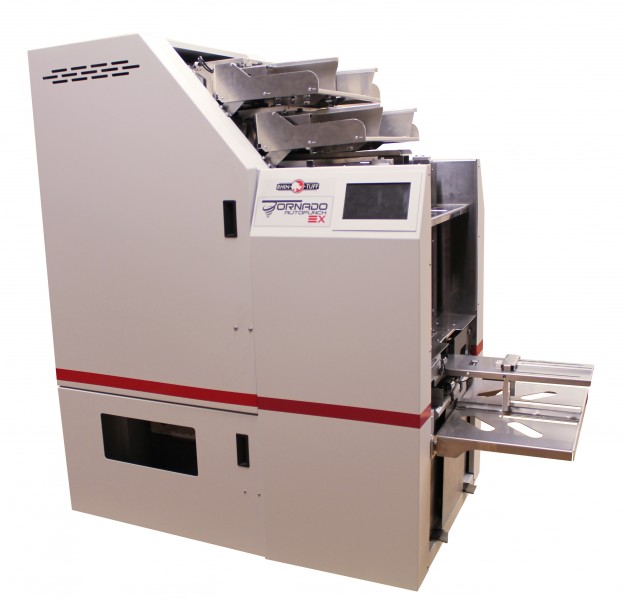 Work smarter, not harder! Cut finishing time by 40% with the Rhin-O-Tuff Tornado Autopunch EX. The innovative electric punch machine punches book blocks, covers and backs with the push of a single button, all while stacking and collating your booklets. Order the Tornado Autopunch EX now and watch your efficiency skyrocket.
Rhin-O-Tuff Onyx Heavy Duty Punch – HD6500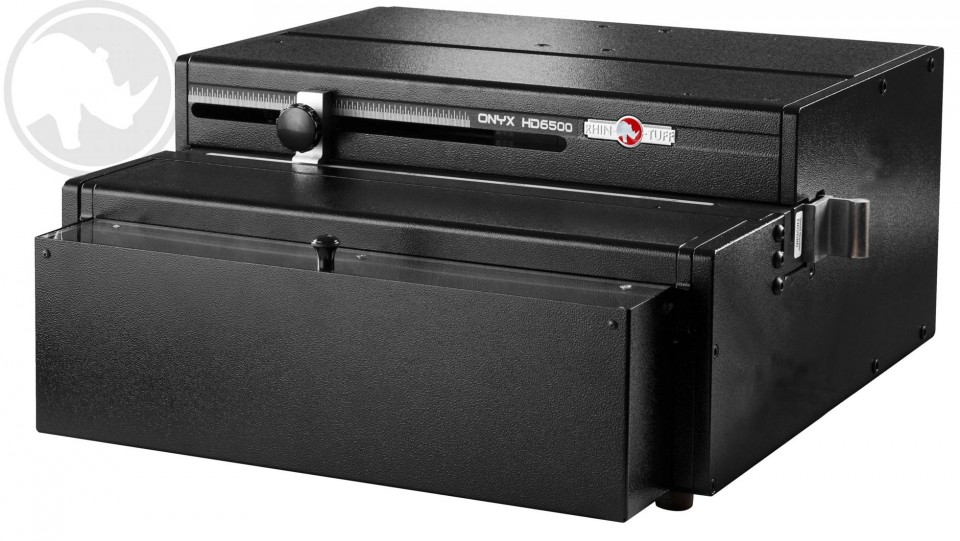 The Rhin-O-Tuff HD6500 is a comb, wire and spiral plastic coil punching machine compatible with more than 20 interchangeable dies. With a 40-sheet capacity and auto-reversing technology, the Rhin-O-Tuff HD6500 reduces paper jams and keeps your production moving.
Rhin-O-Tuff Coil Binding Machines
Finitura carries the top models of Rhin-O-Tuff coil binding machines. With electric crimping capabilities, advanced coil binding systems, easy coil inserting and built-in accommodations for documents longer than 11", these Rhin-O-Tuff coil binding machines reduce labor costs and streamline your production while maintaining uniform precision.
Rhin-O-Tuff Comb Binding Machines
Find great prices on Rhin-O-Tuff comb binding machines at Finitura. Our inventory features high-performance comb binding machines to improve production speed, quality and overall uniformity. Designed for easy use, these comb binding machines offer preset paper stop positions for balanced hole-to-edge margins on a range of paper sizes.
Rhin-O-Tuff Wire Punches
Finitura offers the best selection of Rhin-O-Tuff wire punches for sale online. These electric wire binding punches are engineered for easy use and durability. Rhin-O-Tuff wire punch machines use quick change die systems for interchanging die patterns and advanced auto-reversing technology to reduce paper jams. Use Rhin-O-Tuff wire punches to decrease production costs and increase efficiency.
Rhin-O-Tuff Openers & Inserters
Finitura carries a selection of coil inserters and comb & wire openers from Rhin-O-Tuff. Products like the HD4170, HD e4100, Onyx 8318 and HD4470 accelerate production time and decrease costs. Whether you are assembling comb, coil or wire booklets Finitura has the perfect Rhin-O-Tuff equipment for your project.
Rhin-O-Tuff Die Sets
Rhin-O-Tuff interchangeable die sets from Finitura are built to last. We carry 3-hole, 2:1 round, 3:1 round, 4:1 round, VeloBind, Pro-Click, 2:1 rectangle, comb 9/16 and other die patterns for use in Rhin-O-Tuff punch machines. Contact Finitura today for great pricing on Rhin-O-Tuff die sets. Shop Finitura for:
Contact Finitura for a quote on Rhin-O-Tuff binding machines.