Thermal Binding Glue Strips - 50 per box
Adding this item to your cart will qualify your order for US domestic


Thermal Binding Glue Strips - make your own thermal cover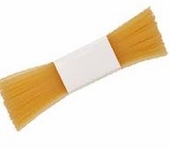 With these glue strips, a thermal binding machine and a scoring machine, you can make your own perfectly bound books. It's easy to do.
Let's say you want to bind 1/2" of paper - sheet size of 8.5" x 11". Here's how you'd do it:
1. Get cover sheets. For the 1/2" book, size of 8.5" x 11" you would need a sheet size of 11" x 17.5" or larger.
2. Score - make one fold mark 8.5" in, and the second score 1/2" deeper - you have just made the spine cavity.
3. Get the glue strip, cut it with an Exacto style knife down to 1/2" thick, and place it in the spine cavity.
4. Jog and evenly place your loose sheets onto the glue strip - between the two outside covers.
5. Place into the binding machine and turn on. In less than a minute your book will be bound. Let it cool and it is done.
Glue strips sold 50 per box