Akiles Finish@-Coil M Electric Inserter/Manual Crimpers
Adding this item to your cart will qualify your order for US domestic


Akiles Finish@Coil-M
ELECTRIC COIL INSERTER & MANUAL CRIMPERS
With its adjustable full-size rollers, this heavy-duty electric coil inserter makes coil inserting surprisingly fast and easy, even on the extra-large diameter sizes. The Akiles Finish@Coil-M is ideal for operators that demand versatility & productivity And a must for all binding centers with large workloads.
Product Description
See-Through Coil Crimpers Compartment: Provides convenient storage and helps to ensure that your crimping pliers don't get lost.
Spiral Coil Diameter Scale: Helps to verify the coil diameter size.
Spiral Coil Diameter Selector: To best select the correct coil diameter size corresponding to the thickness of your document.
Foot Pedal Operated: Allows the free use of both hands and grants the operator complete control of the roller.
Pitch identifier: Verifies that the coil pitch matches that of the punched document.
Adjustable Roller mechanism: For easier insertion of larger diameter coils.
U-shaped Alignment Channel: Aides in conforming the spine of larger diameter documents to the coils shape, for a faster and easier insertion.
Coil Crimpers: Included with every unit.
Manual Crimping
Electric inserting


Finish@Coil-M Feature Image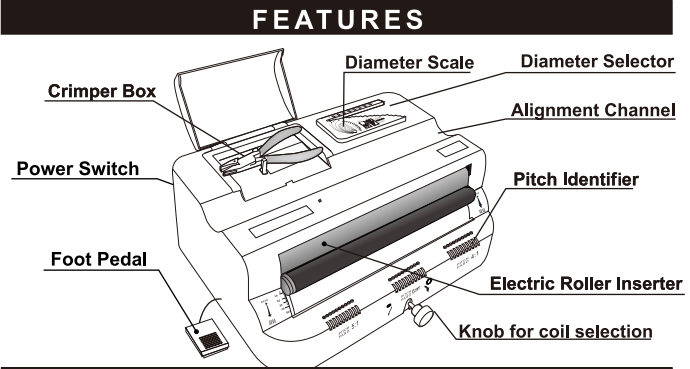 Finish@Coil-M Assembly Procedure
Place your new Finish@Coil-M on top of a sturdy working table.
Turn on switch and press foot pedal to test inserting roller.
Test machine functions with expendable material - begin use
Finish@Coil-M Safety Instructions
Keep fingers, hair, jewelry, necktie and any loose clothing or objects away from roller, as they may be accidentally pulled into the roller.
Do not allow children to operate the machine. The Finish@Coil-M is not a toy.
Always turn switch-off and place foot pedal out of reach when machine us not in use.
To reduce the risk of electric shock, never operate the Finish@Coil-M near water.
Do not use the Finish@Coil-M if power cord is damaged.
Do not allow the electric cord to be in contact with hot surfaces.
In case of malfunction, return the unit to your distributor for service. This equipment does not contain any part that can be serviced by the consumer of operator.
Finish@Coil-M Pre-Insertion Steps (Optional)
Use Pitch Identifier function to verify that the coil pitch matches that of the punched document.
Place to-be-around document into Coil Diameter Selector to best select the correct coil diameter size.
Align coil diameter to Diameter Scale, to verify that the coil size is what you require.
Turn the "Lower Roller Adjustment Knob" to adjust and select the best Lower Roller position for your coil size.

Finish@Coil-M Coil Inserting (Binding)
Align punched document on Alignment Channel. This feature is especially helpful for larger documents.
Place document on top of machine or table and insert the coil into the first 4 to 5 holes.
Hold document evenly against roller (coil must slightly touch the roller).
Press foot pedal. The coil will automatically move forward inserting itself into the holes.
After the last hole insertion, IMMEDIATELY move the document away from the roller and/or stop pressing the foot pedal. Remark: if coil is over inserted or some pages are un-inserted, simply flip document over and proceed with insertion as per step 3.
Use crimpers to cut & crimp the excess coil. Make sure you crimp-in both ends. This procedure will prevent the document from unbinding itself.

Akiles Finish-@-Coil-M Specifications
| | |
| --- | --- |
| MODEL: | |
| INSERTING: | |
| CRIMPING: | |
| MOTOR: | |
| INSERTING ROLLER: | Full size 11-3/8" EPDM roller |
| BINDING CAPACITY: | |
| ADJUSTABLE ROLLER: | |
| MACHINE DIMENSIONS: | 14.5" L x 10.5" W x 5.75" H |
| CARTON DIMENSIONS: | |
| WEIGHT & VOLUME: | |
| WARRANTY: | |