Akiles CoilMac ECP Series
SKUs: Select product options
Add

$75.00

worth of items to your cart to qualify for


Akiles CoilMac-ECP Series
Heavy Duty Electric Coil Punch Machine [Available with Oval or Round Holes]
The CoilMac-ECP Electric Spiral Coil Binding Punch has a heavy-duty punch motor that makes coil binding fast and convenient. The CoilMac-ECP can be bundled with a modular finisher such as the Finish-A-Coil electric inserters to maximize your productivity. The CoilMac ECP comes in two different models: CoilMac-ECP - 53 Round Holes, 4:1 Pitch (.250"), and CoilMac-ECP+ - 54 Oval Holes, 4:1 Pitch (.248").
Product Description
| STANDARD version features: | PLUS version features: |
| --- | --- |
| Round Holes: Standard 4mm round holes. | OVAL holes: Special 4 x 5mm oval holes. The first & only equipment of its class to offer this advanced feature. Makes coil insertion much faster as compared to standard round holes. When used together with our HD Electric Coil Inserter, it will drastically save your coil insertion time by up to 50%. |
| 5 Disengageable Pins: Specially designed disengageable positions guarantee a clean punch with most standard paper sizes, making the CoilMac-ECI very simple to use. | FULLY Disengageable Pins: For a completely clean & professional punching of any paper size, all 54 pins can be independently pulled & disengaged. |
| STANDARD 4:1 Pitch (0.250): Standard pitch for coil binding. Punches 43 holes in a 11 sheet. | LETTER 4:1 pitch (0.248): This revolutionary 0.248 coil pitch is specifically designed to give you 44 evenly-centered holes in an 11 sheet, which provides the most ideal hole to edge-of-sheet margins and easier coil insertion. Hole pattern is 100% compatible with STANDARD 4:1 pitch coils. |
Akiles CoilMac ECP Series Set-Up
Use Coil Size Guide to determine the correct Depth Margin and Coil Diameter. (See Picture 1)
To adjust the correct Punching Margin, press and rotate the Depth Margin Control. (See Picture 2)
(OPTIONAL) You may use the Coil Diameter Selector to determine or double check that you are using the correct coil diameter for your document. (See Picture 3)
(HINT) To properly adjust the depth margin, press and rotate the Depth margin Control at the same time. Release it upon reaching the desired position. The Depth Margin Control button must bounce-back upon release. If it does not bounce-back, rotate it slightly back and forth until it does so. (See Picture 4)

Akiles CoilMac ECP Series Punching
Use the Punch Throat Ruler and Side Margin Control to center the punching of your document. (See Picture 1 & 2) Hint: Insert a sheet and make sure you disengage any hole that is left partially exposed on the Punch Throat Ruler. Failing to do so will leave a partially perforated hole at the edge of your document.
CoilMac-ECP models: Various disengageable pins can be found at strategically designed positions, to avoid partially perforated holes in most common sheet sizes (such as 11", 8-1/2", 14", A4 & A5, etc)
CoilMac-ECP+ model: Full disengageable pins guarantees a clean punch on any standard or custom size sheets. Also, specifically designed 0.2475" Pitch gives you 44 evenly centered holes in a 11" sheet, which results in adequate hole to edge-of-sheet margins and easier coil insertion.
Press foot pedal to punch. (See Picture 3)

For Punching Document 14" (356mm) or Larger
Align sheets as indicated on Punch Throat Ruler. Make sure all Die Disengagement Pins are pushed in.
Insert sheets and press Foot Pedal to punch. (See Picture 1)
Remove sheets and flip them over as illustrated. (See Picture 2)
Insert sheet from right-hand side. Press Foot Pedal to Punch. (See Picture 3)
IMPORTANT: Document must be inserted in such a way as to place one of the relady perforated holes onto the Continuous Punch Guide. Make sure that the last hole (Document edge), if partially covered by the Punch Throat & Ruler, is aligned to a disengaged die, otherwise your document will be left partially perforated.

Akiles CoilMac ECP Series Coil Inserting
For the best coil binding experience and to achieve maximum productivity, we recommend attaching one of the following Electric Coil Finishers onto your CoilMac-ECP.
Option 1: Finish@Coil-E1 (Electric coil inserter + electric crimper)
Option 2: Finish@Coil M (Electric coil inserter manual crimper)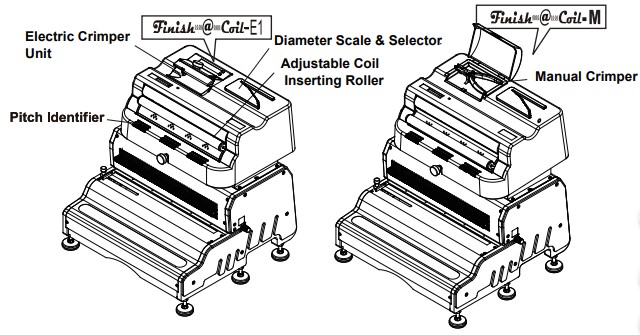 CoilMac ECP Series, ACM-ECP41, ACM-ECP41Plus